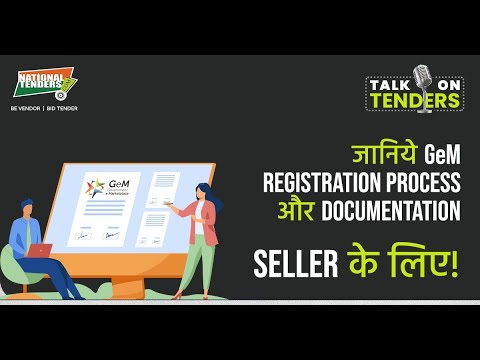 GeM Registration Seller Process | जानिये Registration के लिए ज़रूरी Documents
GeM for Whom?
Buyers
Sellers
Documents Required for GeM Registration :
Aadhar Card Linked with Mobile Number
PAN Card
Udhyog/Udhyam Aadhar Registration (For Manufacturing Unit)
Income Tax Return Form of last 3 years
Bank Account Details
How to do seller registration in GeM :
Open GEM Website : https://gem.gov.in/
Step: 1 Click on Sign up → Seller → REVIEW TERMS & CONDITIONS
Step: 2 Insert Organization details:
Business / Organization Type * - Select particular option from drop down menu
Business / Organization Name * - Enter your Business/Company Name
Click on Next after filling mentioned two details.
Step: 3 Personal Verification:
Authenticate yourself using* → Either Aadhar or Personal PAN

If you authenticate with Aadhar :: Fill the details as required (Aadhar Card must be linked with Mobile Number in this case for OTP purpose)
If you authenticate with PAN :: Fill the details as required

Click on Verify → I Confirm
E-Mail Verification
Enter E-Mail ID → Verify E-Mail ID (Enter same ID)
Click on Send OTP → Enter OTP → Click on Verify OTP → Next
Step: 4 User Credentials:
Enter User ID
Create Password as per the Instruction
Confirm the same password again
Click on "Create Account"
Your initial GeM user ID and Password procedure is completed for any seller – i.e. Product or Service Provider.