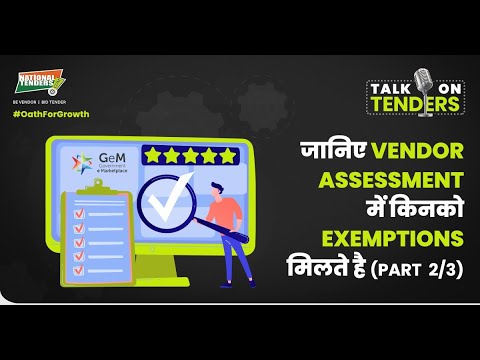 जानिए Vendor Assessment में किनको Exemptions मिलते है |Exemptions in Vendor Assessment on GeM portal
Do you know there are certain exemptions in vendor assessment on GeM portal?
Lets understand the exemptions and required documents for the vendor assessment process in detail in this video.
Watch this video to the end and subscribe to National Tenders for more of such informative videos
1. Vendor Assessment,
2. Exemption in Vendor Assessment,
3. Vendor Assessment Exemption,
4. Vendor assessment in gem in hindi,
5. Vendor assessment gem me kaise kare,
6. vendor assessment oem,
7. vendor assessment reseller,
8. gem vendor registration,
9. gem vendor assessment exemption,
10. gem vendor assessment fee,
11. how to do vendor assessment in gem,
12. qci verified in gem,
13. OEM Panel in GeM,
14. How to register as OEM in GeM
National Tenders – Be Vendor, Bid Tender.
Do Like it, Share it and Comment your Views